Are you interested in joining the Polyband? New vacancies tend to open at the end of the term and we are often searching for new members in one of our sections (rhythm, trumpets, trombones, saxophones, clarinets or flutes). We are rehearsing on Wednesday evenings.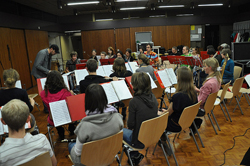 We are currently looking for the following:
The number of players is limited to keep a certain musical balance. Even if we're not currently looking for your instrument, we might be already next semester.
Send an email to the address below so we can put you on our waiting list and we will contact you as soon as we have a vacancy. For the rhythm section we constantly look for stand-in players as well.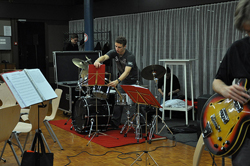 If you are interested or have further questions please send us an email to and tell us about you and your experiences. We'd be happy to welcome you in our band!